Choose language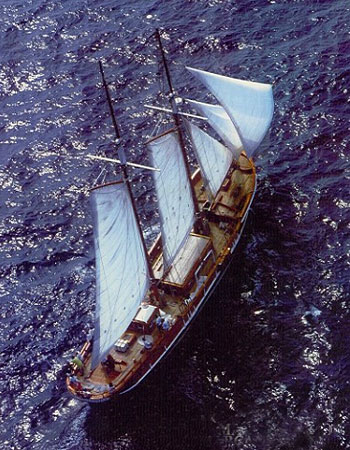 Marcantonio is a shooner which has been made in 1947 on a plan of the biginning of this century. The rigging with fore-and-aft sails, along with the completely manual handle of its sails emphasize the charm of sailing and let you relish the pleasure of going to the sea like once upon a time.
Exactely refitted in 1990, Marcantonio is one of the most beautiful boat you can find in the Mediterranean area; precious rooms made of briar elm, wooden furniture and fitting chiselled by hand, lamps in antique brass, everything contributes to create the exclusive and unrepeatable atmosphere you can find on board of Marcantonio.
The ship is also characterized by wide spaces which are not often available on other sailing-ships.
For this reason Marcantonio can offer safety and comfortable pleasure-cruises to passengers of any age.
The passengers will be lodged in two-berth cabin with private bathroom and air conditioning, therefore every comfort is assured to eight persons.
If you desire to share the pleasure of a more sportive cruise with 12 friends you can use the third and fourth bed wich are available in two cabins.
The expert and efficient crew is composed by 4 members; they will always be in order to assure to all the passengers the highest quality standard of the life on board.
| | | | |
| --- | --- | --- | --- |
| Prices 2023 | High season | Medium season | Low season |
| MS/Y Marc Antonio | On request € | On request € | On request € |
DEPARTURE PORTS: Venzia / San Remo Nice - Italy and France
OTHER DETAILS ON REQUEST

SPLIT SHIP MANAGEMENT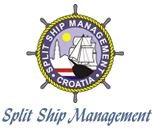 CONTACT DETAILS
Tel: +385 21 588 519
Fax: +385 21 558 555
Mon - Fri: 08-20 hours
Sat - Sun: 08-16 hours
E-mail: info@ssmtravel.com
Address: Boktuljin put bb,
POB 305, 21000 Split, Croatia

CROATIA INFO
Something new?
Not just another holiday destination...
It is even more than Sun, Smiles and Memories...
All information provided on www.ssmtravel.com are for information purposes only. All materials (photos and text) are provided by the owner or manager of Private accommodation, Apartments, Rooms, Hotels, Sailing Yachts, Motor Yacths, Gullets (Gulets), Excursions, Airline tickets, Package deals, ect.

© SSM Travel by TOL TEAM '06