Zagreb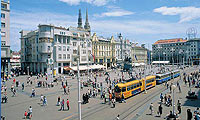 The capital city of the Republic of Croatia. Zagreb is an old Central European city. For centuries it has been a focal point of culture and science, and now of commerce and industry as well. It lies on the intersection of important routes between the Adriatic coast and Central Europe.

When the Croatian people achieved their independence in 1991, Zagreb became a capital - a political and administrative centre for the Republic of Croatia. Zagreb is also the hub of the business, academic, cultural, artistic and sporting worlds in Croatia.
Many famed scientists, artists and athletes come from the city, or work in it. Zagreb can offer its visitors the Baroque atmosphere of the Upper Town, picturesque open-air markets, diverse shopping facili­ties, an abundant selection of crafts and a choice vernacular cuisine. Zagreb is a city of green parks and walks, with many places to visit in the beautiful surroundings.
The city will enter into the third millennium with a population of one million. In spite of the rapid development of the economy and transportation, it has retained its charm, and a relaxed feeling that makes it a genuinely human city.

Split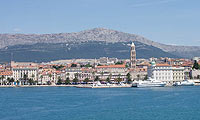 The city of Split is situated in the warmest region of the northern Mediterranean coast, in the very centre of the Adriatic eastern coast and in the immediate vicinity of the rivers Jadro and Žrnovnica that have been watering it for 1700 years.

Its mild climate, with 2700 sunny hours per year, makes it an oasis where, sheltered from the wind, one can enjoy the sun even in wintertime. The industrial, university, and business centre of the region nourishes its "green soul" on the hill Marjan situated in the westernmost part of the peninsula. Its forested park infringed by the city and the sea offers pleasant walks away from the city noise under the pines by the sea.


Dubrovnik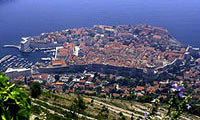 The city of a unique political and cultural history (the Dubrovnik Republic, the Statute from 1272), of world-famous cultural heritage and beauty (inscribed on the List of World Heritage Sites by UNESCO) - is one of the most attractive and famous cities of the Mediterranean.

Apart from its outstanding natural beauties and well-preserved cul-tural and historical heritage, Dubrovnik also offers high-quality visitor opportunities.
It is also the city of hotels, of high ecological standards and tourist programs, and is equally attractive in all seasons. Its geographical isolation is compensated by high traffic and communication standards - especially through air traffic and fast hydrofoil boats.


Trogir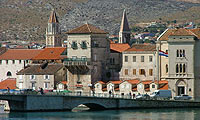 2800 years of history and life in this "treasury of art" town were always in balance giving the world a magnificent picture of cool and peace, which was recognized by UNESCO. Visit Trogir and feel the lush beauty of stone monuments, the mystique of the streets and vaults, coolness of the sturdy walls and bastions, the harmony of color and form of paintings and carvings.
Placed in the area of Mediterranean climate, Trogir with its 2700 sunny hours per year is a real treasure among other tourist destinations in Croatia. You can enjoy Dalmatian specialties prepared with natural ingredents, or classic continental food in over 100 bistros and restaurants in Trogir area. Do the evening walk through tiny streets and squares during the Trogir Summer Festival and enjoy in the Folk dances, Classical concerts in the cathedral, or Jazz nights on Radovan square.


Zadar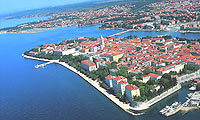 For centuries the capital city of Dalmatia and today the centre of the region. A city with a rich heritage of world importance, visible at every step. The Roman Forum from the 1st century, St. Donatus' Church from the 9th century is the most famous medieval basilica and trademark of the city. The reconstructed Romanesque St. Grisigono's Church from the 12th century and the St. Mary's bell tower from the year 1105; the St. Anastasia's Cathedral from the 13th century; the People's Square with the City's Lodge and Guardhouse from the 16th century, as well as the mighty fortification walls with first class Sea(farer's) and Land gates from the 16th century followed by the Three and Five Wells Squares and many palaces, villas and other historic monuments.
Based on a three thousand year old tradition, the Zadar region has evolved to take up 14% of the total territory of the Republic of Croatia, and around 12% of the territorial sea, with as many islands as there are days in the year plus an islands' surface area of approximately 580 km square. Just offshore of the 1200 km long coast, most indented coastline in the Mediterranean, there is an array of four strings of islands beginning with the largest: Pag, Dugi Otok, Ugljan, Pasman, leading to the smaller ones: Silba, Molat, Olib, Premuda, Iz, Vrgada, Sestrunj.


Hvar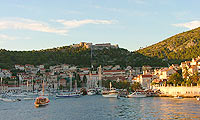 The name of the island of Hvar is without doubt Greek in origin, from Pharos (lighthouse). From it the Romans derived the name Pharia.

The Dalmatian Romans then derived from this Fara, and the newly settled Croats in the early Middle Ages changed this to Hvar, as the old Slavonic consonant f was subsumed by the consonant group hv.
The Dalmatian Romans, under the influence of Croatian pronunciation in the medieval documents spelt the name as Quara or Quarra.

Hvar (68 km long), after Cres the longest Adriatic island, is also the fourth largest in area (300 sq. m). The longitudinal road which links the town of Hvar with Sućurje at the eastern end of the island is 84 km long. The high plateau between St. Nicholas hill (626 m) and Hum (603 m) which extends from Sv. Nedjelja to Jelsa and is partly under pine woods and partly under arable land is marked by distinctive beauty and a fresh climate. The flat part of the island between Stari Grad, Vrboska and Jelsa is under vineyards which produce up to 50,000 hectoliters of wine per year.