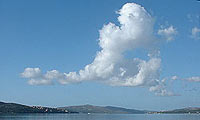 Climate
Normally , the summer temperatures in July will be about 34C in the northern part, while in the southern part they will rise even to 38C. In the winter, the coldest temperatures are noticed in the northern Adriatic (up to -16C), while they do not usually exceed -6C in the southern part.

Winds
In the Adriatic Sea , the winds are relatively predictable , with the main ones being the Bura and the Jugo plus north-western sea breezes .

Bura
This is a dry, cold downward wind blowing in gusts from the north-northeast to the east-northeast direction. The direction in which the wind blows is primarily influenced by the configuration of the shore . The Bura blows mostly in the winter when it is at it's most strongest and can blow for up to 14 days . However , in the summer it usually only lasts for several hours at a time .

Jugo (Sirocco)
This is a warm and moist wind which blows from the direction east-southeast to south-southwest and it can cause high waves and rain. The Jugo is characteristic of the southern Adriatic, where it blows longer and stronger than in the northern part. In the summer, it usually blows for up to 3 days, and in the winter as long as three weeks. The signs of the oncoming sirocco are a calm at sea, weak changeable winds, dimness of the horizon, an increase in the temperature and moisture , a gradual decrease of air pressure and waves from the southeast becoming bigger.

Sea Breeze – the Maestral
This is a daily thermal wind blowing from the northwest. It is present from the spring to the autumn and during the day, it often changes direction. The Maestral is more present in the southern Adriatic than in the northern Adriatic.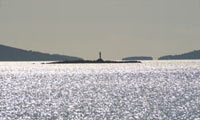 Land Breeze – the Burin
This is also a daily thermal wind which blows contrary to the sea breeze (Maestral) . It blows during the night from the north, north-east in the northern Adriatic, and in the southern Adriatic, from the east or south-east. It is strongest before dawn, and it stops soon after.