Choose language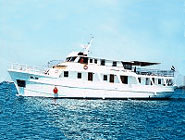 The Skarda is a classic motor yacht rebuilt in the year 2000. She has 13 double-bedded cabins, nine on the main deck and two on the lower deck. The Salon has a well-stocked bar while the teak upper deck has facilities for dining, dancing and sun-bathing. A friendly crew of six including a well-known Mediterranean cook, services the vessel. On-board sports equipment includes a 15 foot zodiac, wind surfers, fishing tackle and skin diving gear.
Prices 2023
High season
June/July/August/September
Low season
MS Skarda
14.000 €
13.000 €
DEPARTURE PORTS: Split

OBLIGATORY: suplement for half board - 300€/person weekly , Port charges 90 EUR a person,route to Dubrovnik add 10 %

PAYMENT CONDITIONS:
- 50% ADVANCE payment - upon reservation
- 50% BALANCE payment - 4 weeks prior to the charter commencement
CHECK-IN/OUT: SATURDAY - 16:00h / SATURDAY - 09:00h

SPLIT SHIP MANAGEMENT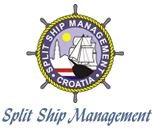 CONTACT DETAILS
Tel: +385 21 588 519
Fax: +385 21 558 555
Mon - Fri: 08-20 hours
Sat - Sun: 08-16 hours
E-mail: info@ssmtravel.com
Address: Boktuljin put bb,
POB 305, 21000 Split, Croatia

CROATIA INFO
Something new?
Not just another holiday destination...
It is even more than Sun, Smiles and Memories...
All information provided on www.ssmtravel.com are for information purposes only. All materials (photos and text) are provided by the owner or manager of Private accommodation, Apartments, Rooms, Hotels, Sailing Yachts, Motor Yacths, Gullets (Gulets), Excursions, Airline tickets, Package deals, ect.

© SSM Travel by TOL TEAM '06